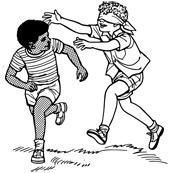 TLTRPreß
---
Hello there!
Publications / Newsletter / Contact
Online shop
---
NEWS
---
We have launched our new online shop at shop.tltr.biz. Come by!
—
It's here again! A second episode of our radio show Shapes Without Names with TLTRPreß, hosted by Montez Press Radio and originally aired on April 13, during the L.A. Art Book Fair. We spent the hour with artists Julie Béna (who has published 'It Needed to be Tender and to be Whipped' with Montez Press in 2017), Valentýna Janů (who is excellent at performing her writings out loud from memory), and Martin Kohout (your host…). This time, we recorded in Prague for a change!
—
This last week of March is also the very last week in the life of Tictail platform where we had our online store for some time. To celebrate its end, we decided to make a SALE! Don't miss this once-in-a-dog-life chance and get some of our books at tltrpress.tictail.com!
—
We made a radio show! Shapes Without Names with TLTRPreß @ Montez Press Radio aired on February 24, 2019 and you can listen to its extended version on our soundcloud here. Aleksandra Bielas presented her audio drama The Red Button and Will Kherbek presented two shorts stories of his. The readings were followed by a discussion with the publisher, Mr. Kohout.

—
We will launch our new publication Night Shifter at Auto Italia South East in London on March 16th, 7-9pm. Come and join us! Georgina Voss will perform a new piece and Habib William Kherbek will read from his contribution to the book.
—
The reading and launch of Puffy Grip Logic, which took place in September, in Prague, at the Fotograf Festival, was documented by Artycok.tv and is here to watch!
—
The Great Outdoors, by Monika Kalinauskaitė and Monika Janulevičiūtė, our first ever graphic novel, has just been released!
—
Subscribe to our new newsletter!
—
And a new issue of Scrolldiving is out! Check it ☛ here.
PUBLICATIONS
---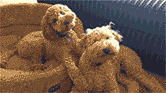 2018
Night Shifter
Edited by Martin Kohout and Dan Meththananda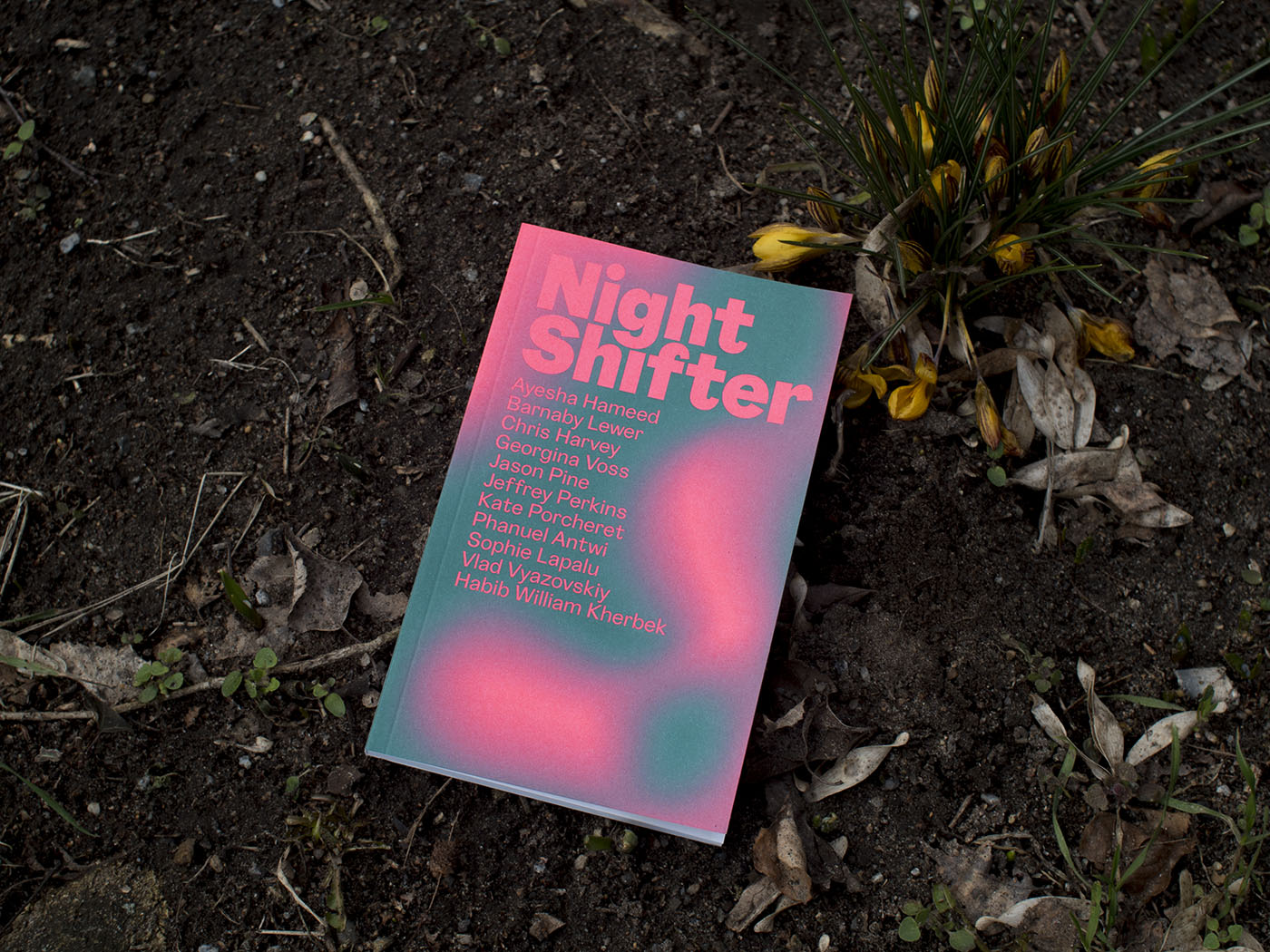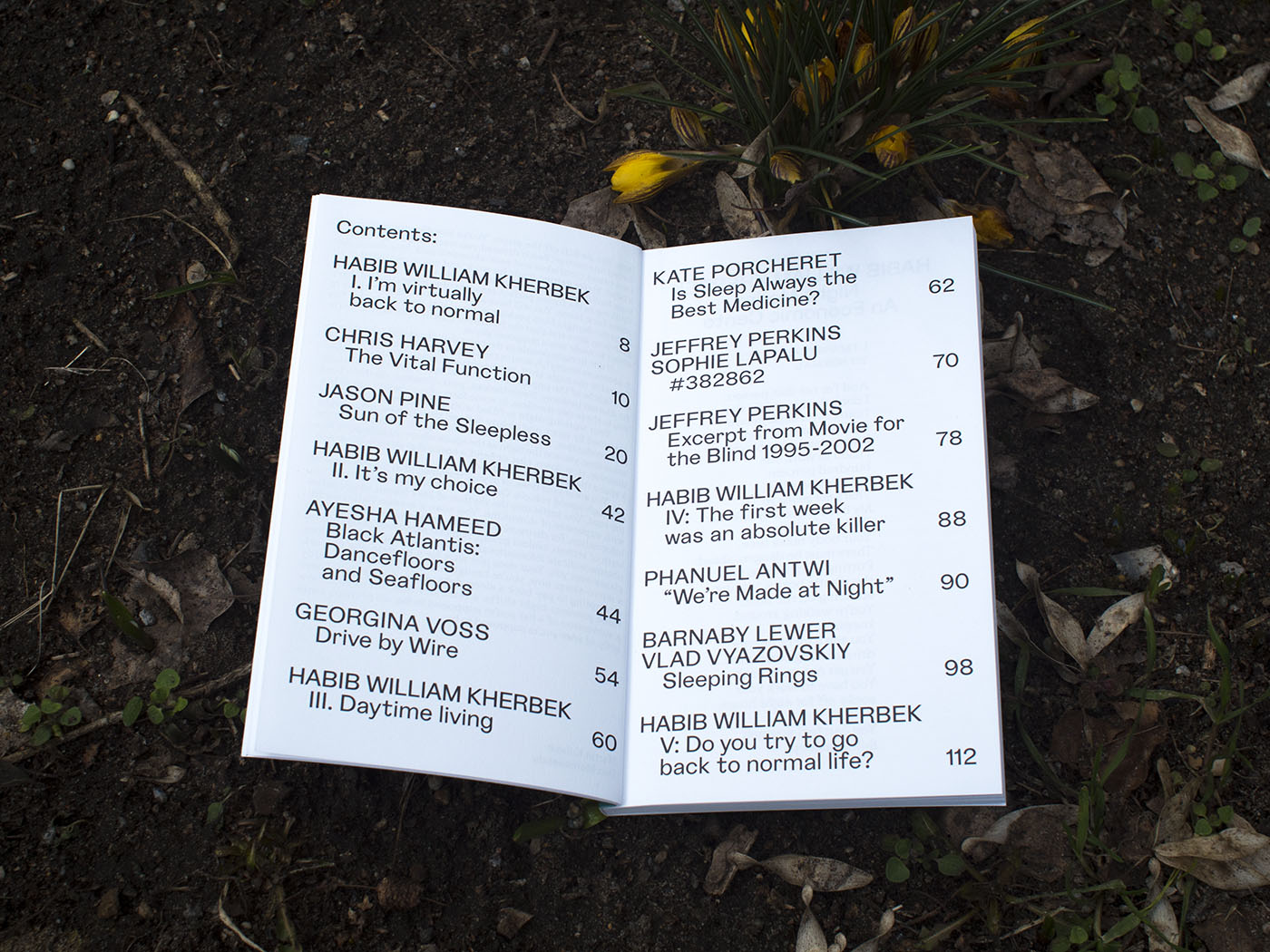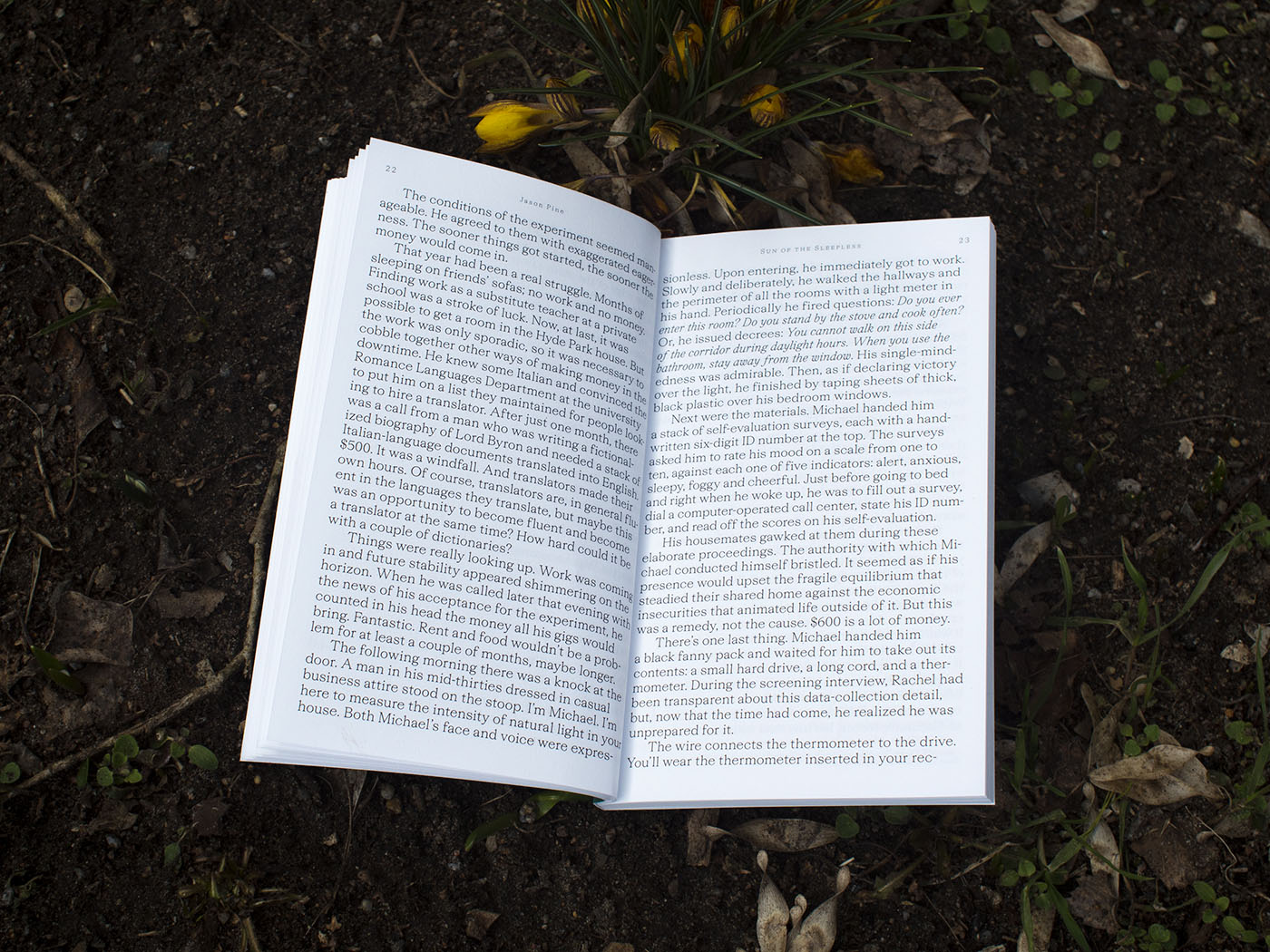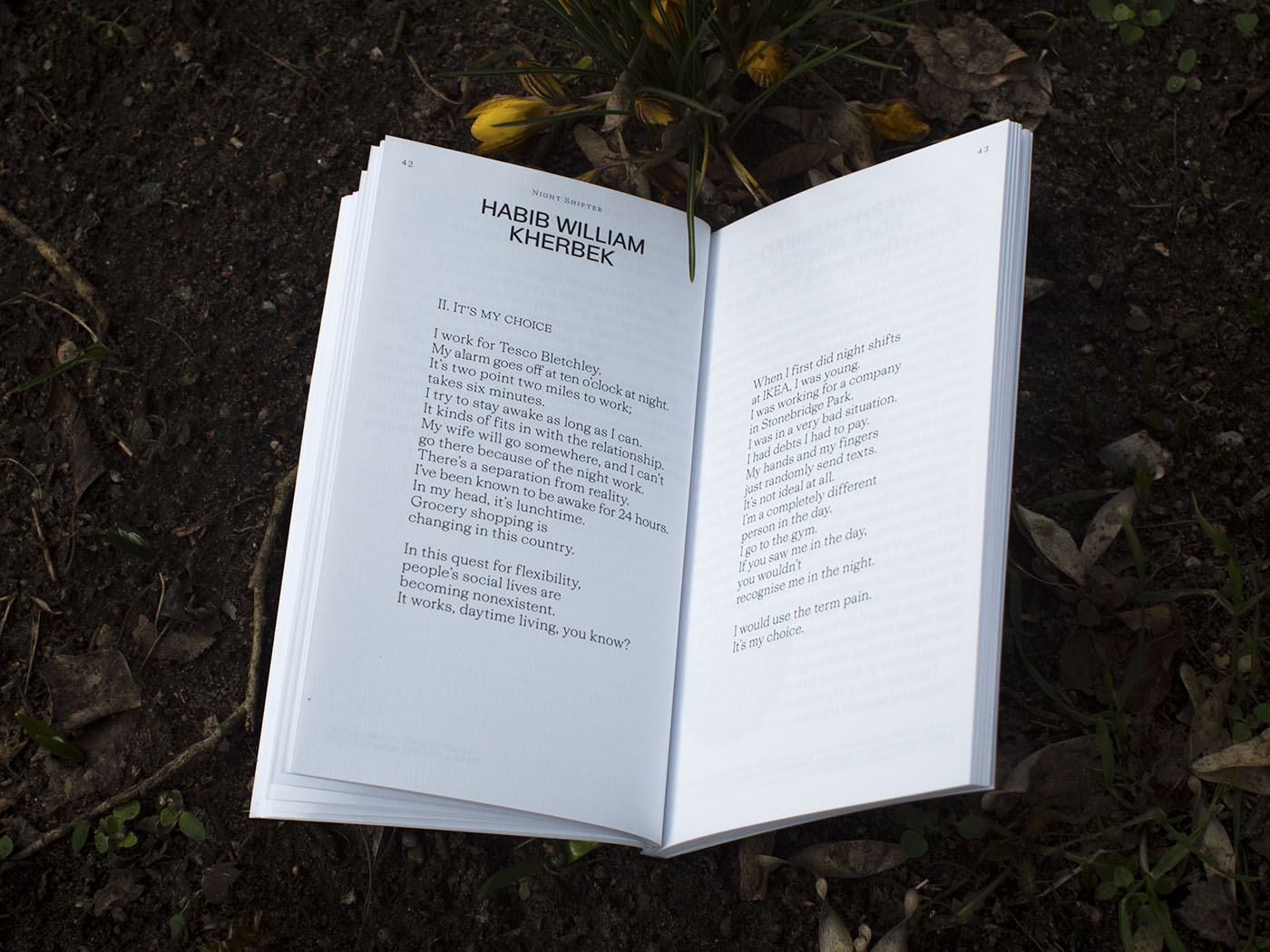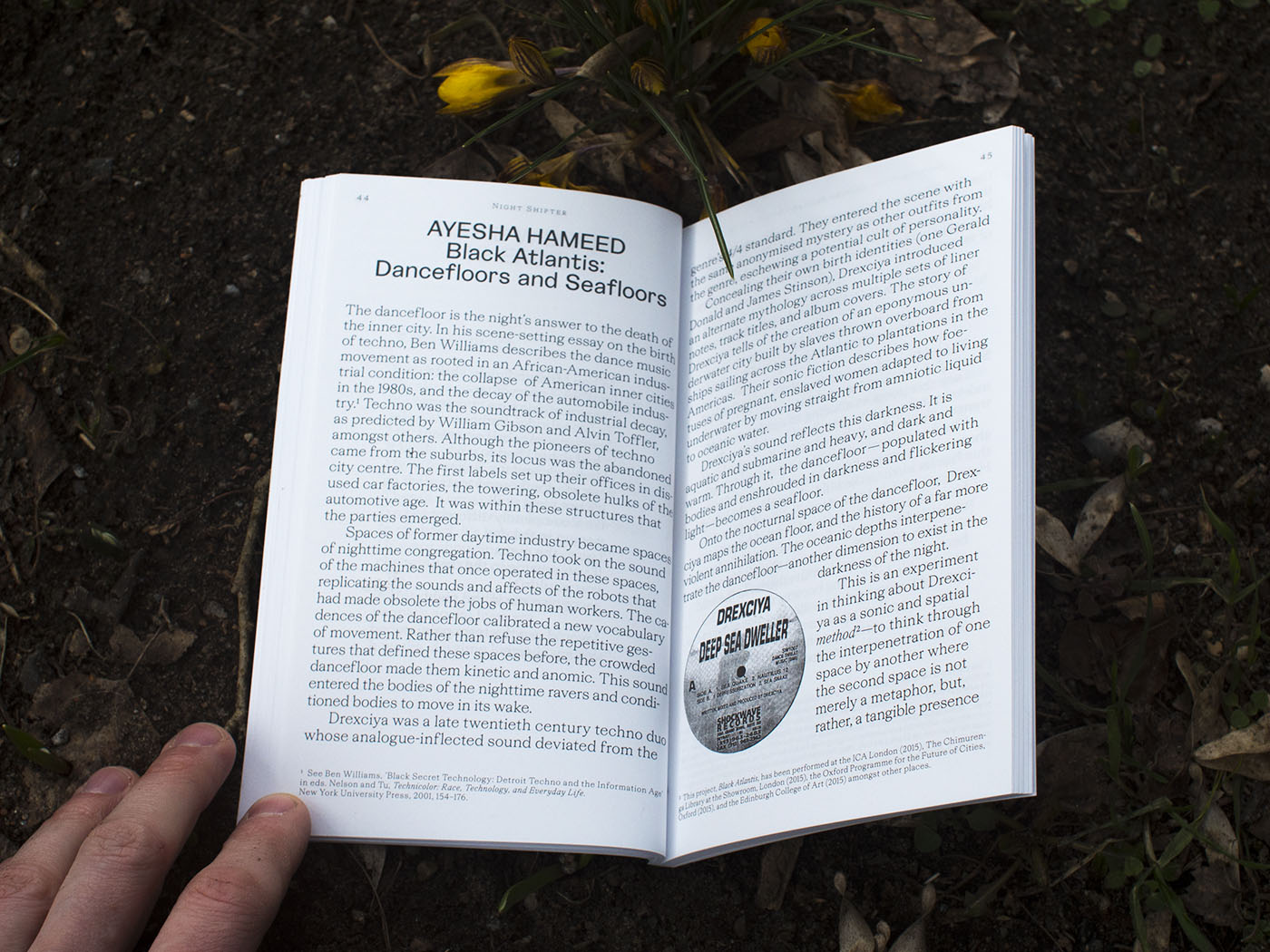 Catalysed by conversations with night-shift workers in London and Milton Keynes, this collection brings together neuroscientists, anthropologists, authors, cab-drivers, and artists to reflect on the conditions of nocturnal labour. Through each contribution, the night shift is interpreted as a displaced, ambivalent space — of disciplined protocol, of calm meditation, of queer autonomy, of hedonistic resistance, or of exhaustion beyond words.
Night Shifter features contributions from Phanuel Antwi, Ayesha Hameed, Chris James-Harvey, William Kherbek, Sophie Lapalu, Barney Lewer, Jeff Perkins, Jason Pine, Kate Porcheret, Georgina Voss, and Vlad Vyazovskiy
Edited by Martin Kohout and Dan Meththananda
Designed by Jan Horčík
ISBN: 978-3-9-819640-1-1
Order a copy for ☛ 12€
The Great Outdoors #2: Soft Voices & The Flat Earths 1
by Monika Janulevičiūtė and Miša Skalskis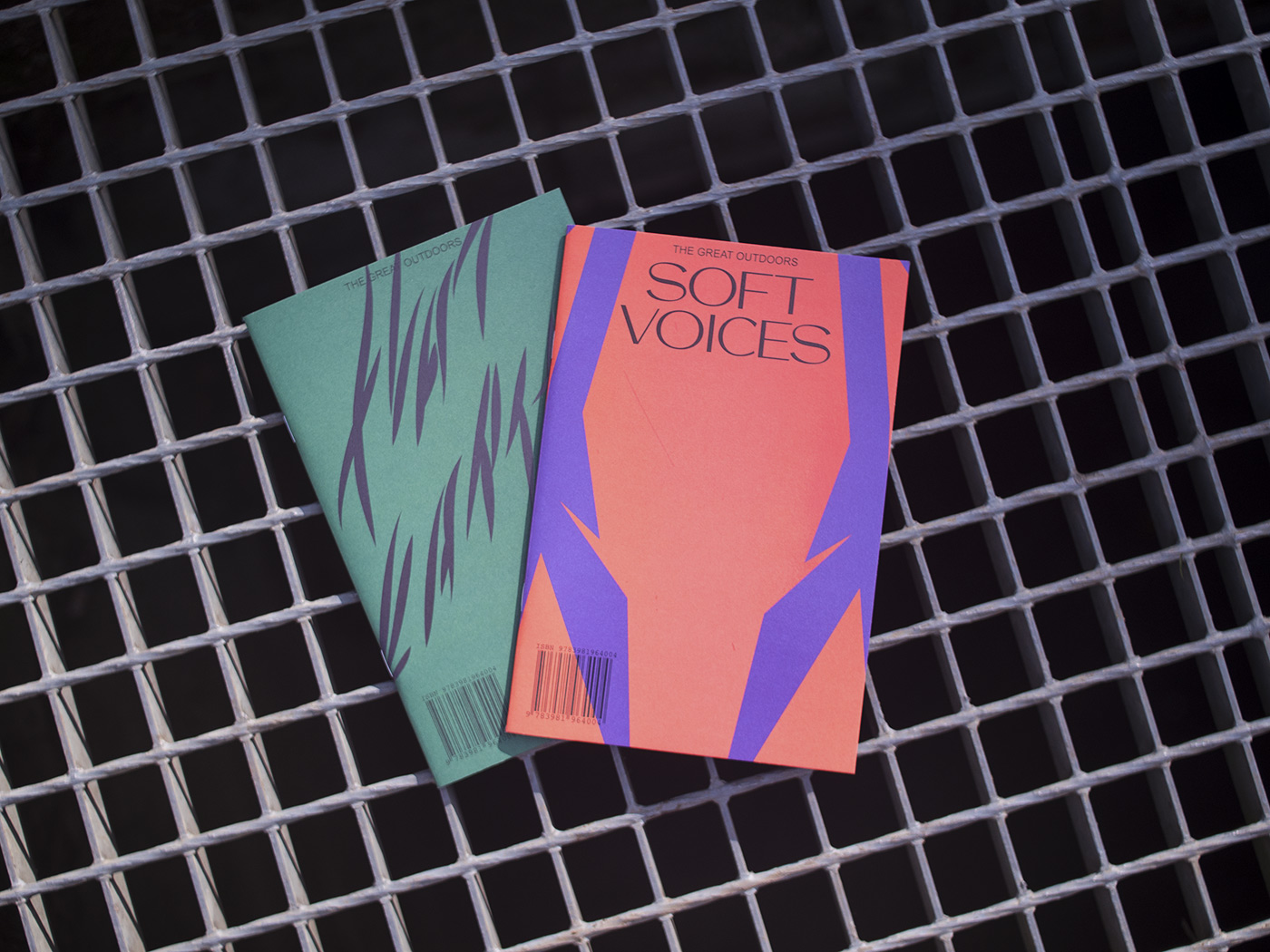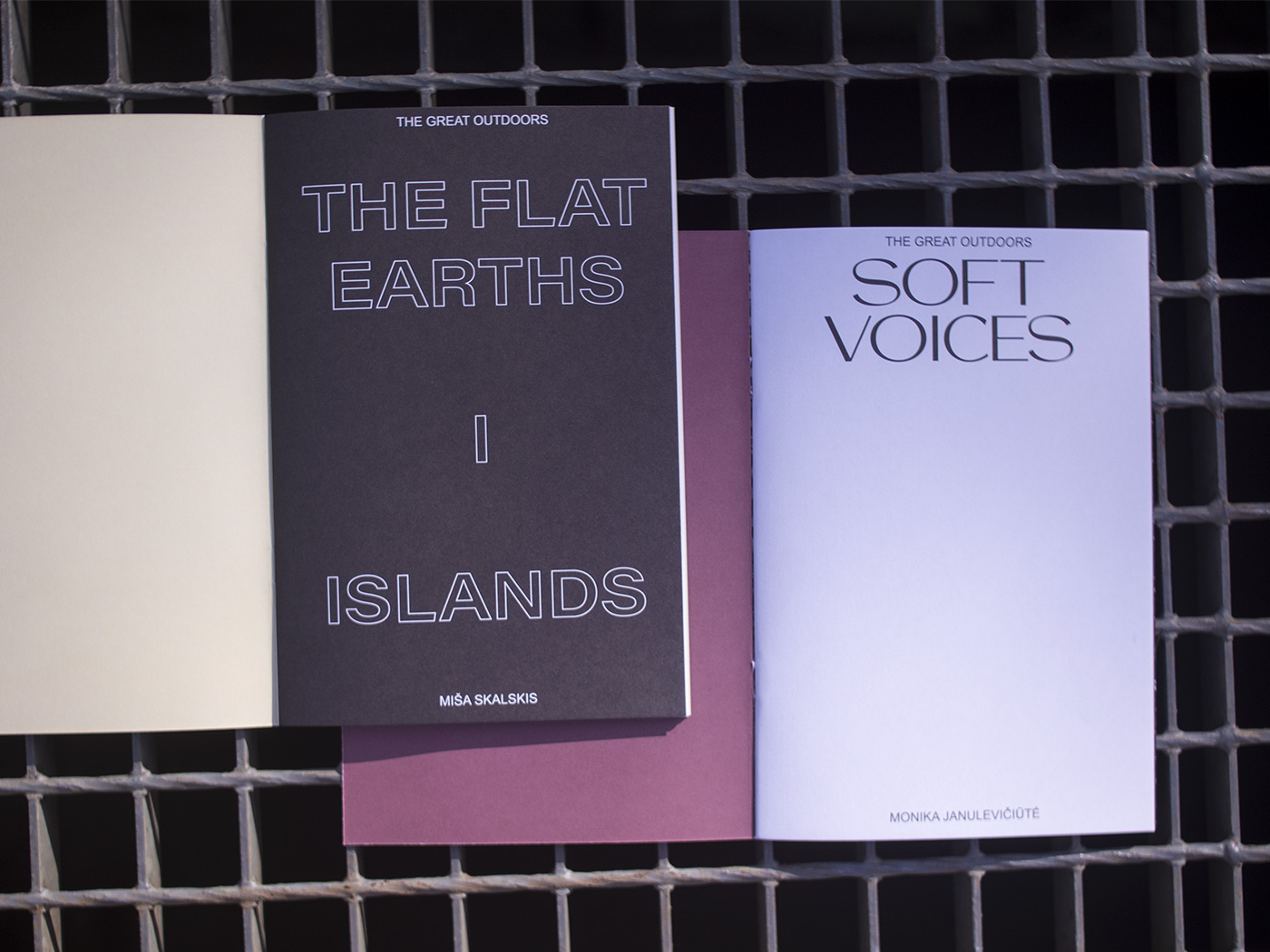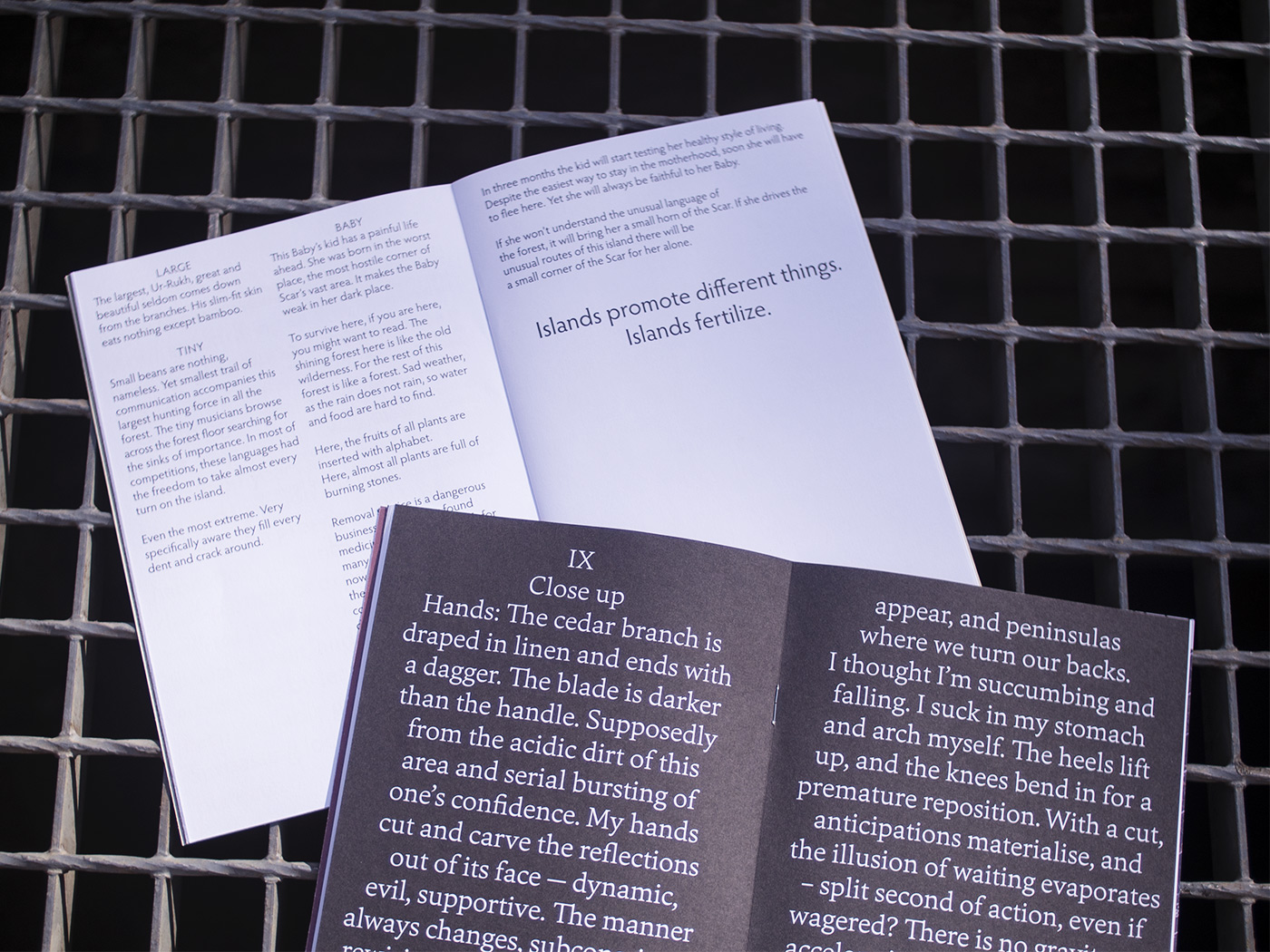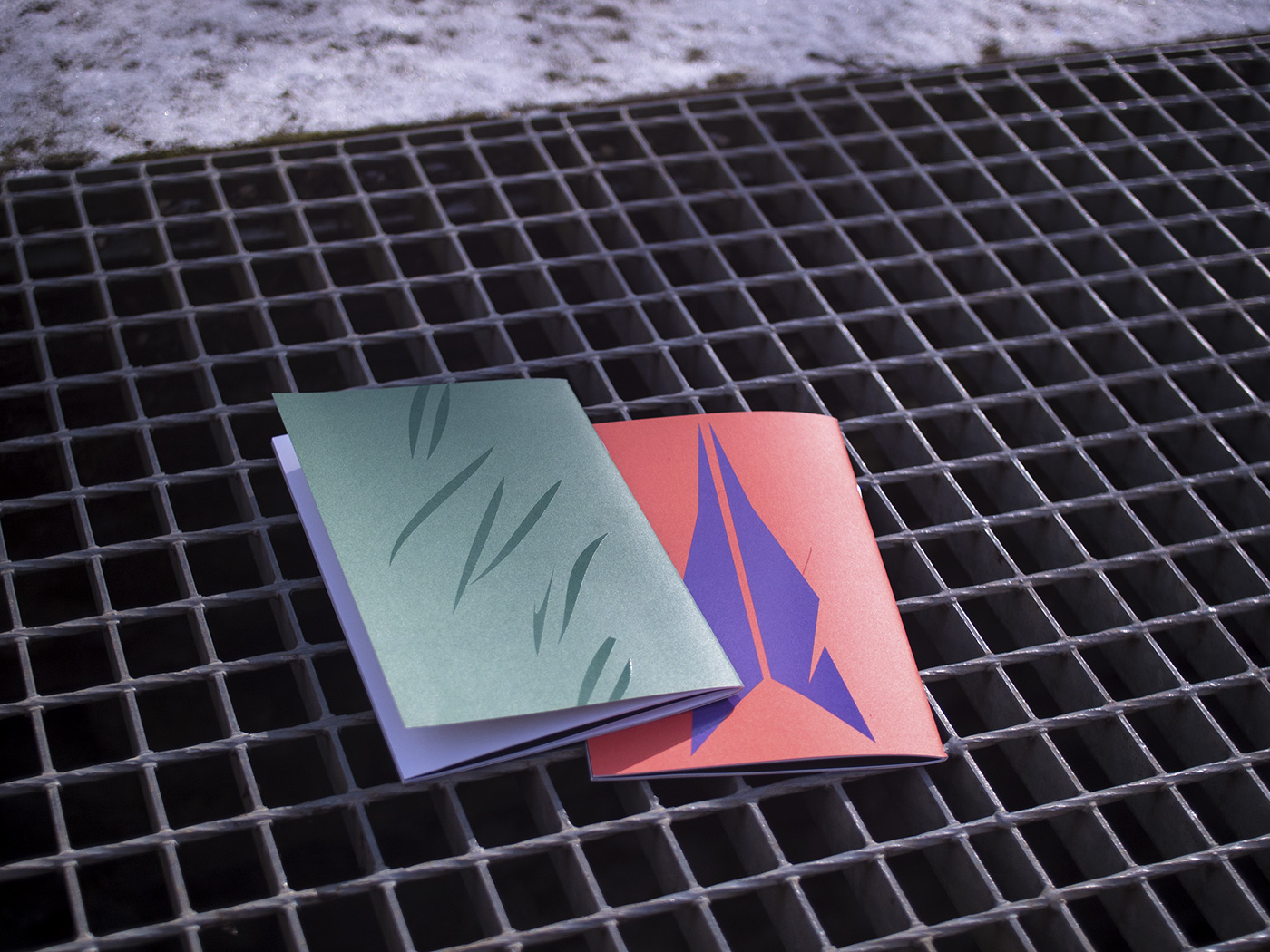 Freshly bound "Soft Voices" and "The Flat Earths 1" further explore The Great Outdoors universe. The doublet brings about familiar yet uncharted social fabric(s) in the form of a promiscuous sci-fi.
Unitedly being driven by short attention span, they are all about the extremes. In a traction of microsecond narratives sway from being intimately close, consoling, and suddenly lifting up, unbounding internal heat and instigating shiver.
Written by Monika Janulevičiūtė and Miša Skalskis
Designed by Monika Janulevičiūtė
Set of 2 softcover publications, 32 BW pages, 13,5 x 20cm
Supported by Sonic Acts
ISBN 978-3-9819640-0-4
thegreatoutdoors.121.lt
Order for ☛ 8€
---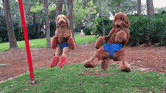 2017
The Great Outdoors
by Monika Kalinauskaitė and Monika Janulevičiūtė
It's 2017 and your life ISN'T a clusterfuck? Grow the fuck up. Though it's often cloaked in reticence, the distance between what we want and what we're offered is unravelling at the seams. Our fail-safes are falling apart. Our bodies are willed into cosmic orgies of fate, time, chance, and cum bubbles. Our universe is collapsing. It's no time for shyness—we need all hands on dick. What will happen when we bare it all in the open for everyone to see: our loves, our legs, and our late-night dirty texts, dirty secrets, and dirty pants?
There's a world busting open like a nut: Welcome to the Great Outdoors.
― Nathan Beyoncé Ma
written by Monika Kalinauskaitė
illustrated and designed by Monika Janulevičiūtė
Edition of 85kg.
ISBN: 978-609-95749-2-9
TLTRPreß 2017
Order for ☛ 12€
Martin Kohout: Puffy Grip Logic
(The Key Cutters Series #1)
Puffy Grip Logic is the first book from The Key Cutters Series, in which various authors, ideas, plots, and writing genres engage the structure of the gamebook. The form offers the reader various routes, detours, and encounters for moving through the book.
Written by Martin Kohout, and contributors, this book begins the series with a fantastic episode full of adventures, where dreams, desires, and fears ornament the journey, walls turn to dough, and all coppers are bottoms. With contributions by Sasha Engelmann and Jol Thomson, Kaspars Groševs, Monika Kalinauskaitė, Nora N. Khan, Žygimantas Kudirka, Nathan Beyoncé Ma, Susan Ploetz, Felix Riemann, Daniel Taylor, and Matilda Tjäder.
Designed by Monika Janulevičiūtė.
Illustrated by Maren Karlson.
Edited by Habib William Kherbek.
Directed by Martin Kohout and Matilda Tjäder.
Co-published by TLTRPreß and Fotograf Festival 2017.
ISBN: 978-80-906924-0-4
Order for ☛ 12€
Steph Kretowicz: Somewhere I've Never Been
'We cruise at just under 1,000 kilometres an hour. It feels like we're barely moving, hovering, rather than hurtling onward to another unfamiliar destination.'
Written by Ms. Kretowicz.
Edited by Mr. Clark.
Designed by Ms. Mitcheva.
Co-published by Pool and TLTRPreß.
Edition of 129kg.
ISBN: 978-3-943196-26-9
Order for ☛ 14€
Somewhere I've Never Been is an experiment in distributed storytelling carried out across a print, sound and live performance. Pulling together field recordings from international soundscapes, the book follows the author's account of loss and being alone in a self-started journey through the US, Europe and the Middle East.
More at: www.thepoweroflove.cz
Ms. Kretowicz is a London and Los Angeles-based, writer, editor and journalist specialising in music, contemporary art and digital culture. Her writing appears in Flash Art, Dazed & Confused, Resident Advisor, The Fader and The Wire, as well as Somesuch Stories, Arcadia Missa Publishing, and Live Art Development Agency, among others. Kretowicz is also co-founder and editor of London and Berlin-based arts publication AQNB.com.
The novel was also accompanied by a seven-part radio series — produced with artist and sound designer Kimmo Modig — and is now available to hear in full (below).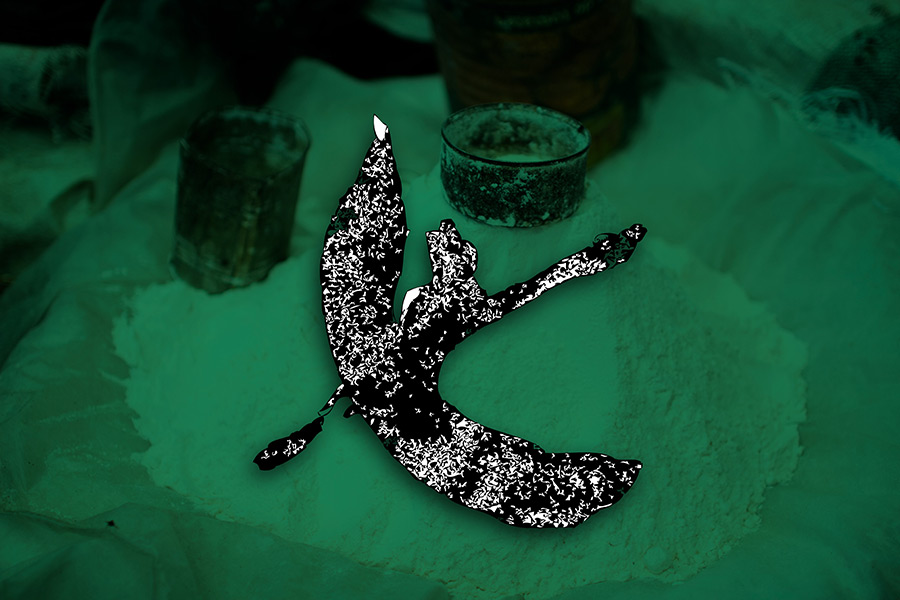 Scrolldiving is a platform-based collection of texts edited by Mr. Fresneda & Mr. Ferris in partnership with TLTRPreß.
Scrolldiving's microsite hosted in TLTRPreß allows readers to include annotations within the text, enhancing the dialogue between authors and readers.
Read ☛ Scrolldiving #3, 2017, 'Rock–Paper–Scissors' by Loreto Alonso & Luis Gárciga
Read ☛ Scrolldiving #2, 2016, 'Windows' by manuel arturo abreu and others
Read ☛ Scrolldiving #1, 2016, 'I'm Going to Describe a Ritual' by Beatriz Santiago Muñoz.
---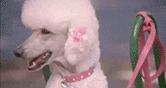 2016
Aleksandra Bielas: He promised me a pleasure marathon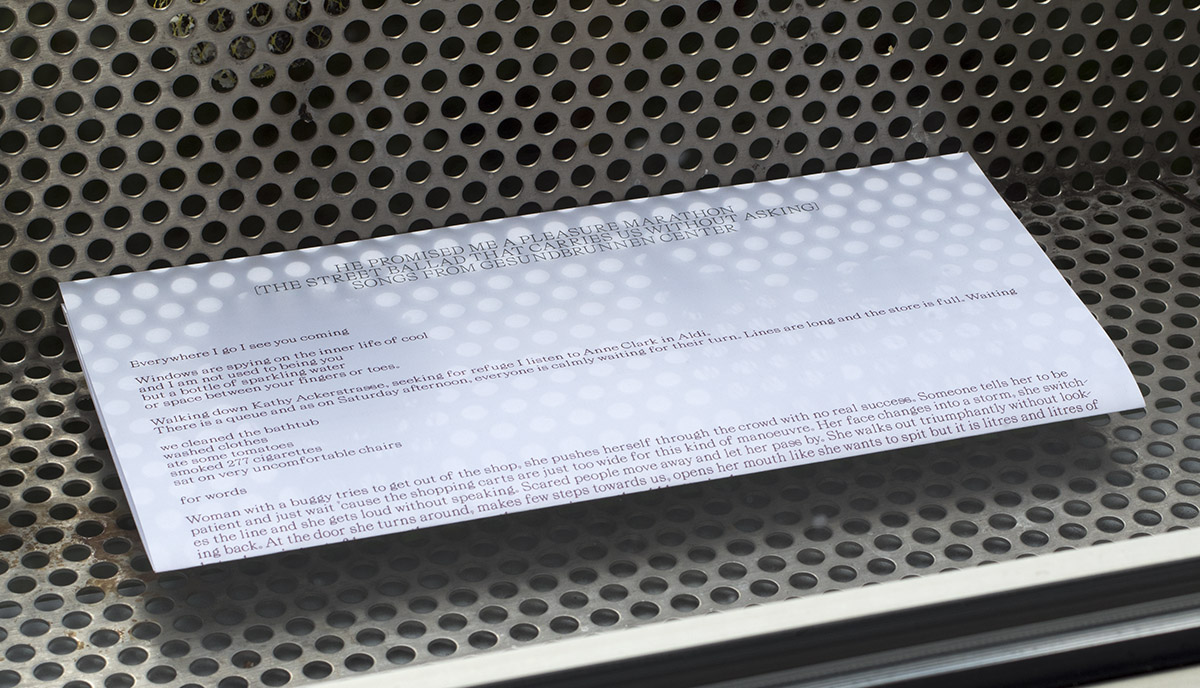 A new poem by Aleksandra Bielas printed on the two sides of a single A3 sheet, folded and sent to you by mail.
Written by Ms. Bielas.
Unique font by Mr. Horčík.
Limited edition of two-color risograph prints.
Sold out
See the recent Create your own dream publication by Ms. Bielas here.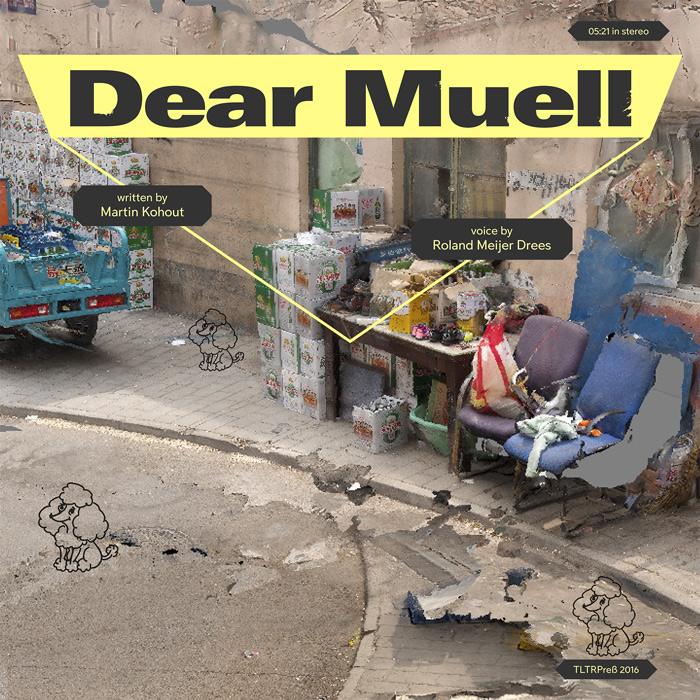 An audio version of Mr. Kohout's short story narrated in the voice of Sir. Attenborough by the impersonator Mr. Meijer Drees.
The original text has been also published in the General Fine Arts Issue 1, vol. 2, journal.
5 minutes 21 seconds in stereo.
Cover image by Mr. Kohout.
An unlimited edition of free listening ☛ here.


---

2015
Aleksandra Bielas: Create your own dream
Collection of short texts by Aleksandra Bielas accompanied by a drawing by Olga Pedan.
Written by Ms. Bielas.
Unique font by Mr. Horčík.
Drawing by Ms. Pedan.
Designed by Mr. Horčík and Mr. Kohout.
Edition of 11,7kg.
Order for ☛ 6€
Read a poem by Ms. Bielas in Driving Fast Nowhere for free.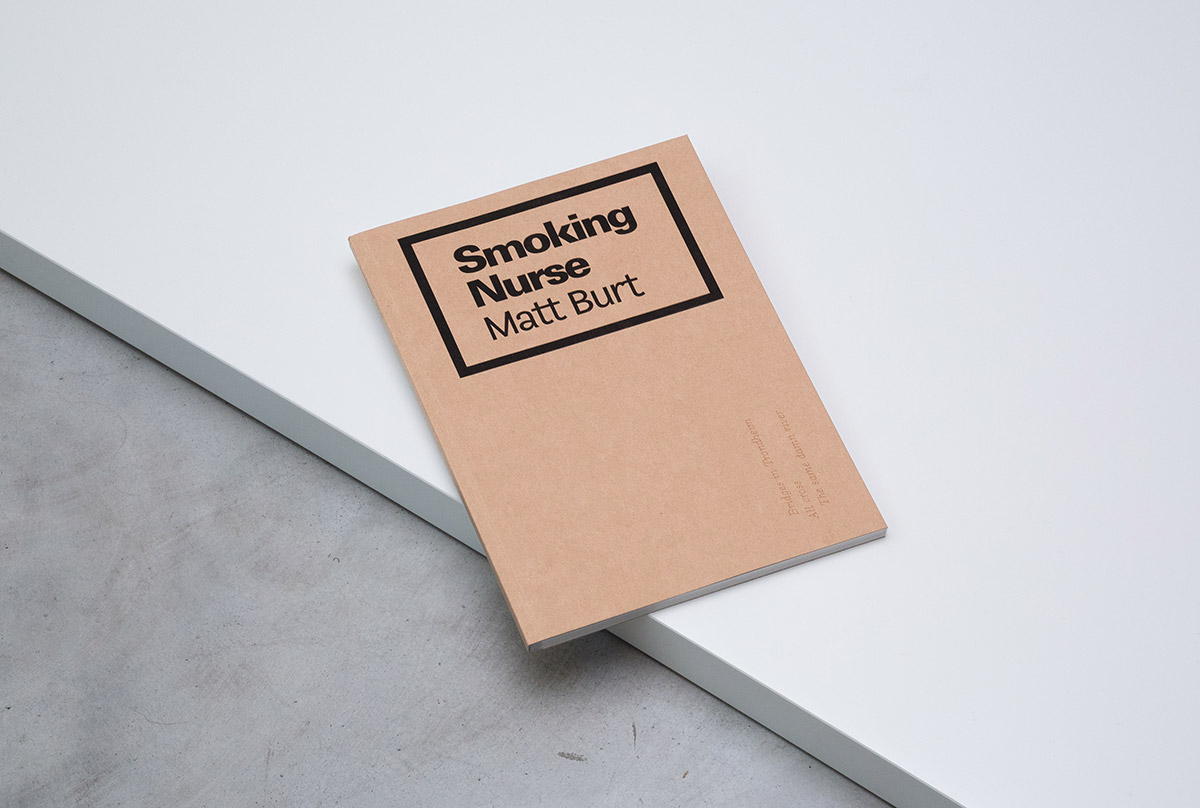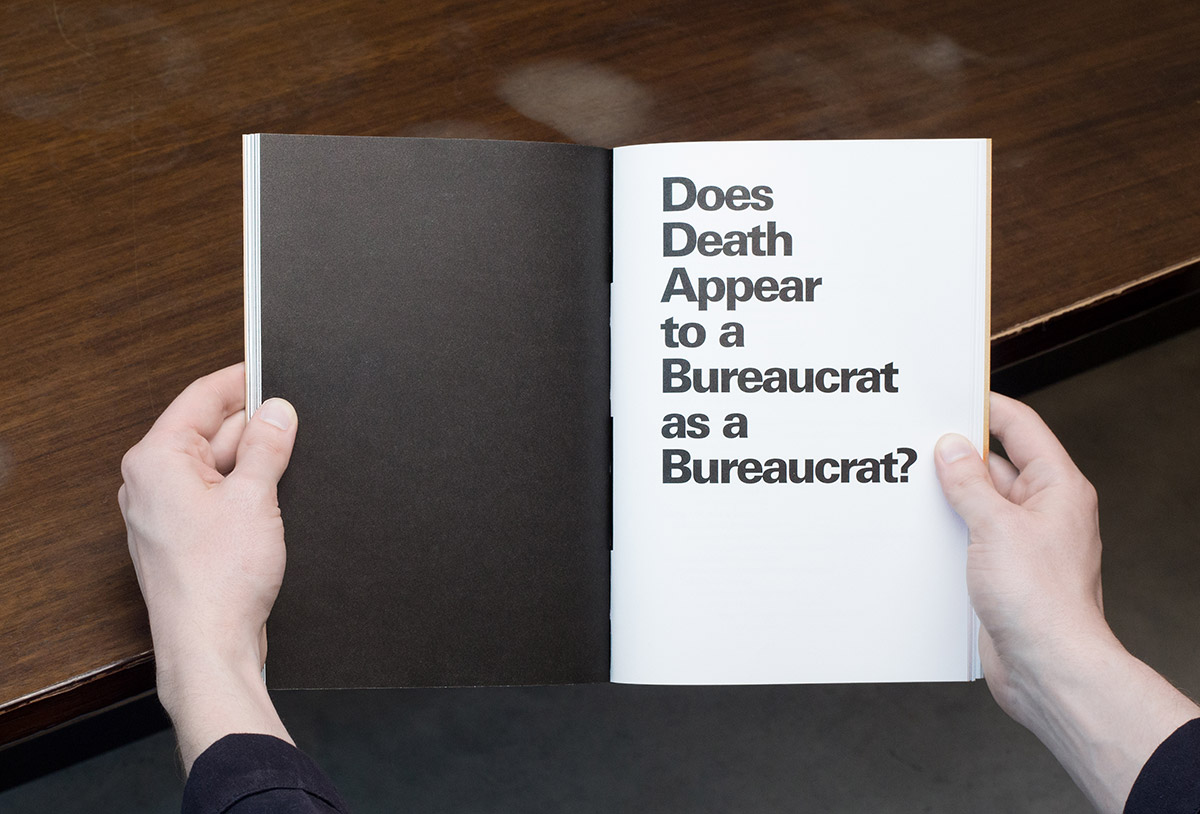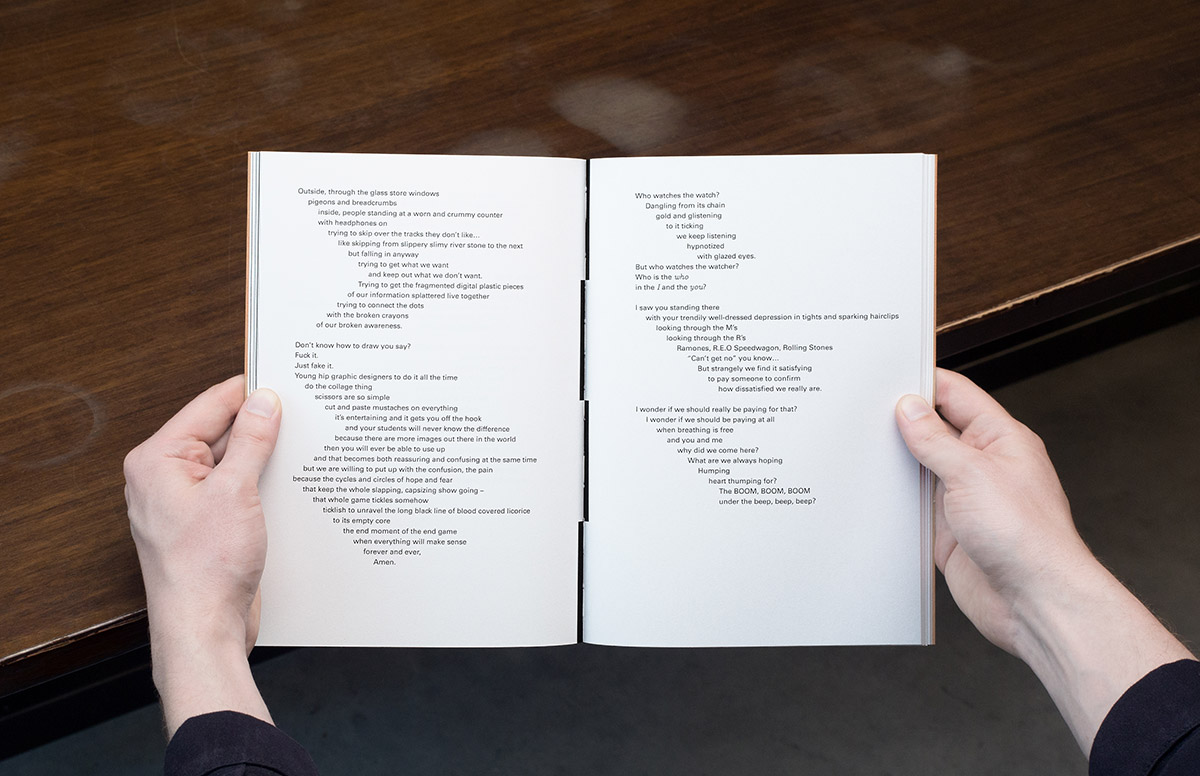 Photograped by Paul Jules Smith.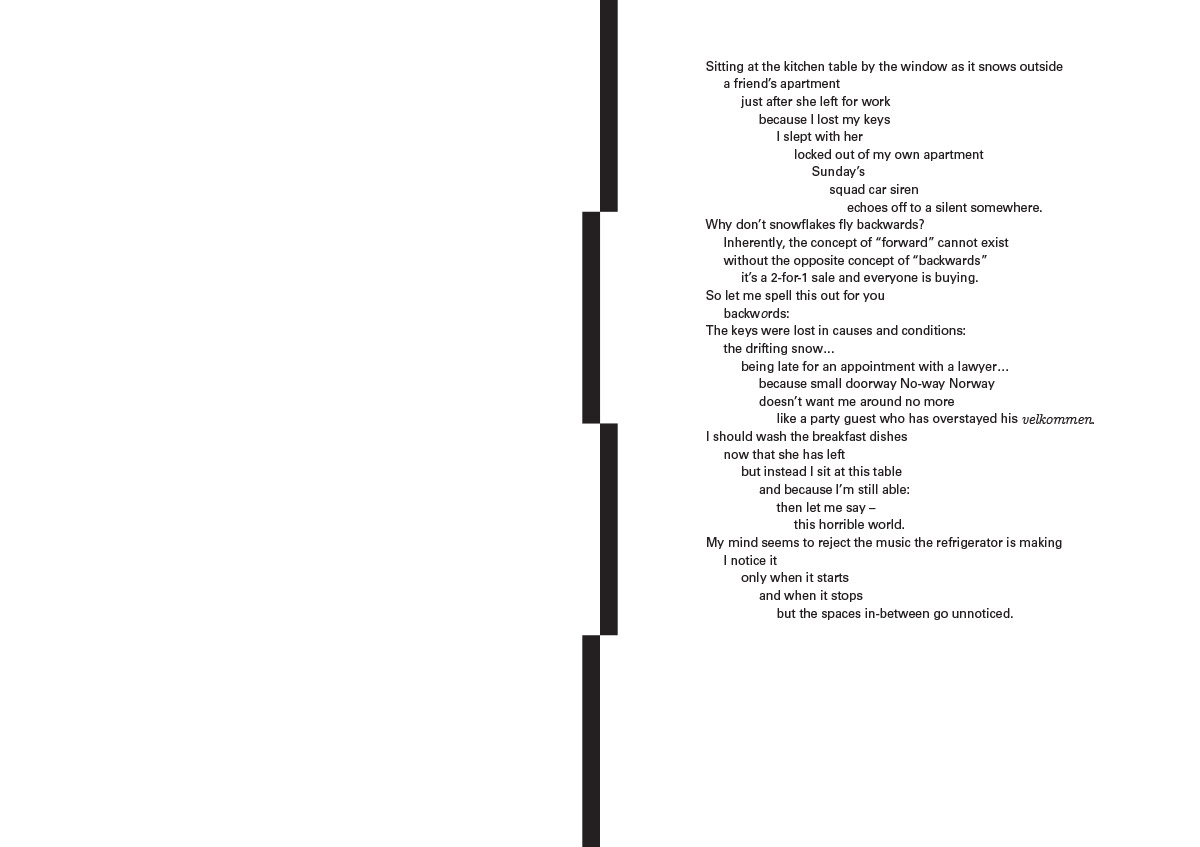 The very first printed collection of poetry by Matt Burt.
Written by Mr. Burt.
Hosted by Mr. Kohout.
Designed by Large, Paris.
Edition of 39,4 kg.
Order for ☛ 12€
Read a poem by Mr. Burt in Driving Fast Nowhere for free.


About the book:
Smoking Nurse is the first printed selection of Matt Burt's poetry. Written during the late 90s for his spoken word performances, the pieces were a continuation of his earlier writings, which he recorded on a semi-broken micro-cassette player. These primitive recordings were later sampled by Burt's musician friend Helge Sten, which is how I found out about his work a decade ago. In the early 90s, Sten (later known as Deathprod) encouraged Burt to leave his job as a farm journalist for the second smallest newspaper in Wisconsin, USA, and move to Trondheim, Norway, to study at the local art academy. In 2004, Burt started his own band (Dog & Sky) and since has written and performed spoken word, music, and short stories, as well as collaborated with Norwegian bands like Motorpsycho and Spidergawd. Susanna and the Magical Orchestra covered his song These Days on their Melody Mountain album.

Through my 20s I returned occasionally to one of Burt's and Sten's collaborations, the chillingly minimalistic 6'15, released on Deathprod's eponymous album in 2004. I have been coming back to it with an attachment that has only grown stronger with time. So when I found out there was no printed book of Burt's writing, I felt it my duty as a publisher to bring it to you.
---


2014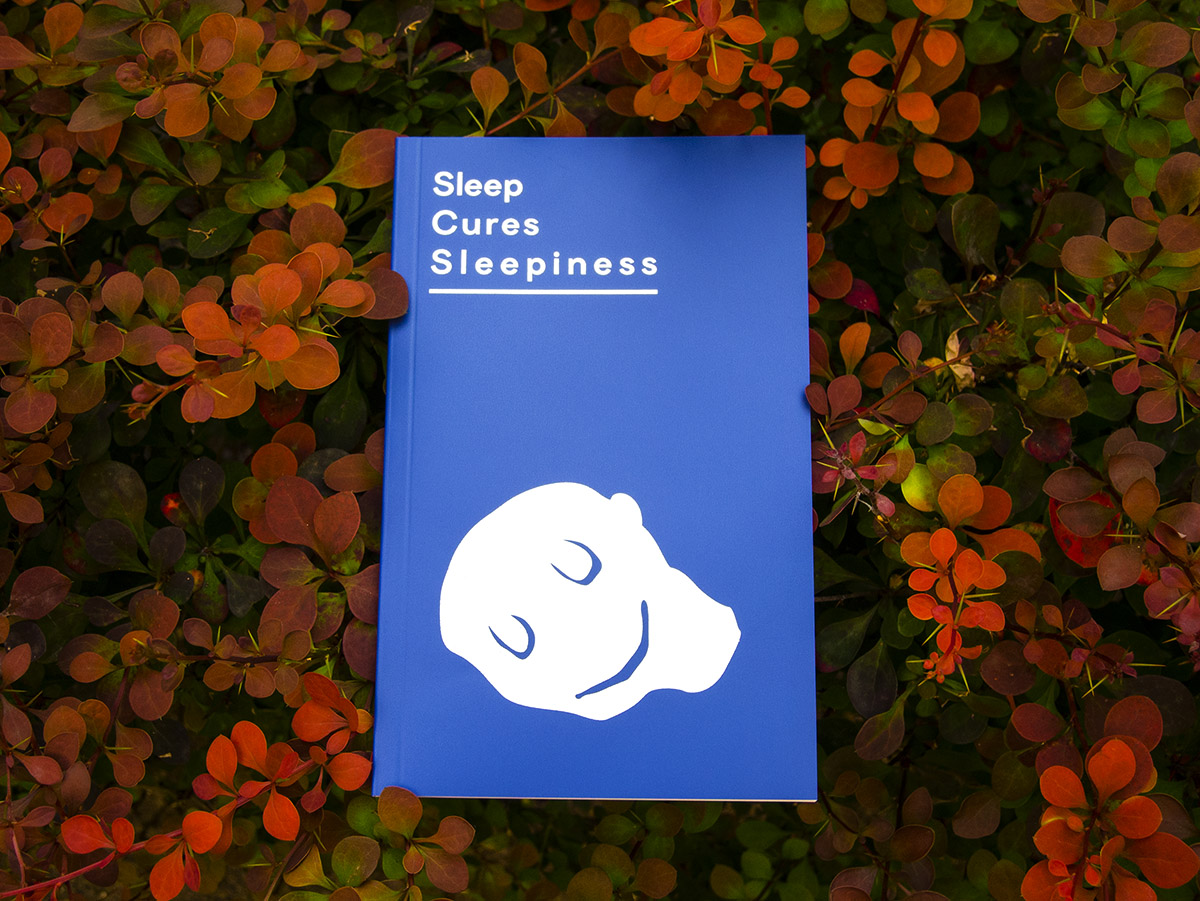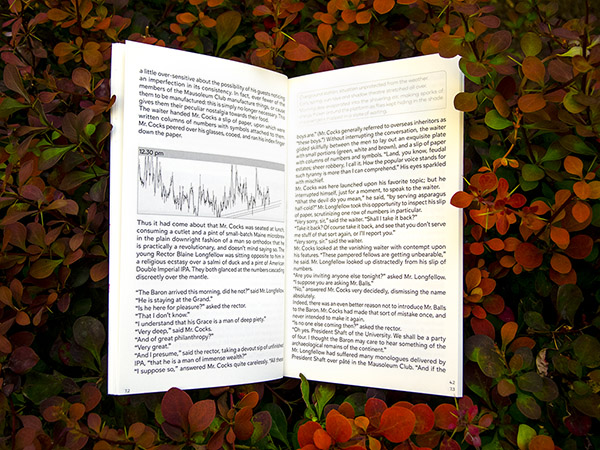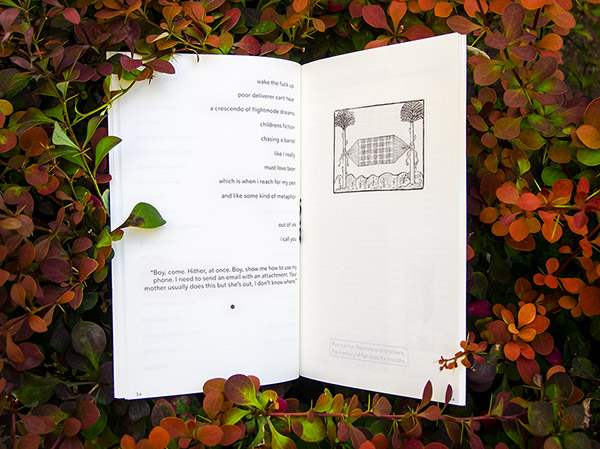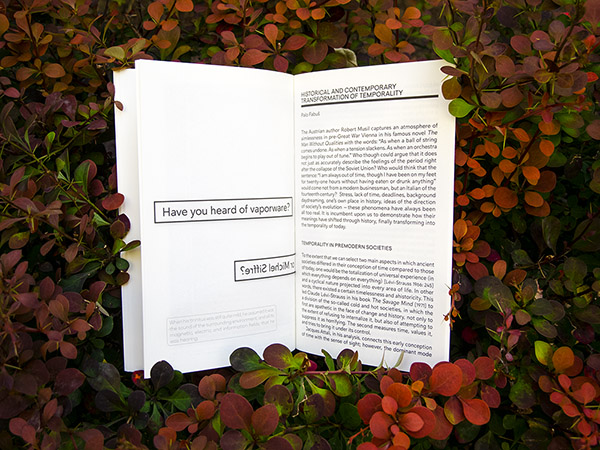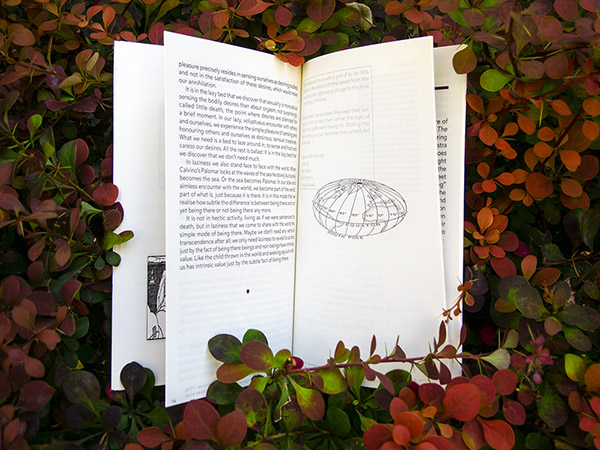 Presenting texts and thoughts by Ms. Van Brabandt, Mr. Fabuš, Mr. Haworth, Mr. Kohout, Ms. Kubolkaite & Mr. Palm, Ms. Mitropoulos, Ms. Salinas & Mr. Bergman, Mr. Stevenson.
Put together and designed by Mr. Kohout.
Mainly using fonts Danzza and Left from Heavyweight foundry.
Co-published with 1822-Forum.
ISBN: 978-3-945243-03-9
Edition of 59.5 kg.
Sold out


About the book:
For a major part of mankind's history, time was not tracked and kept, but searched for and observed. It was understood by the pace of cyclic events and rhythMs. of bodies, crops, stars and solstices. When still measured by sundials, the length of hours changed throughout the year with the different inclination of Earth's orbit around the Sun.

But with the increasing miniaturisation and mobilisation of time-keeping devices, time entered our bodies with the calculated precision of a laser cutter, letting in valorisation of heartbeats. Metabolism got worked around and natural cycles were either ignored or 'genetically modified'. Time got flattened in a fashion pioneered by machines operating seamlessly around the clock and with speeds beyond human comprehension.

For this publication, contributors were invited to share notes on the gap that resists the unification of body rhythms, dreaMs. and spontaneity with the tempo of machines, communication networks and calculable profit. Here is a song for the flesh under the attack of constant availability and no place to hide, information overload, omnipresent context advertising and fear of missing out.
Martin Kohout: Daylight Manual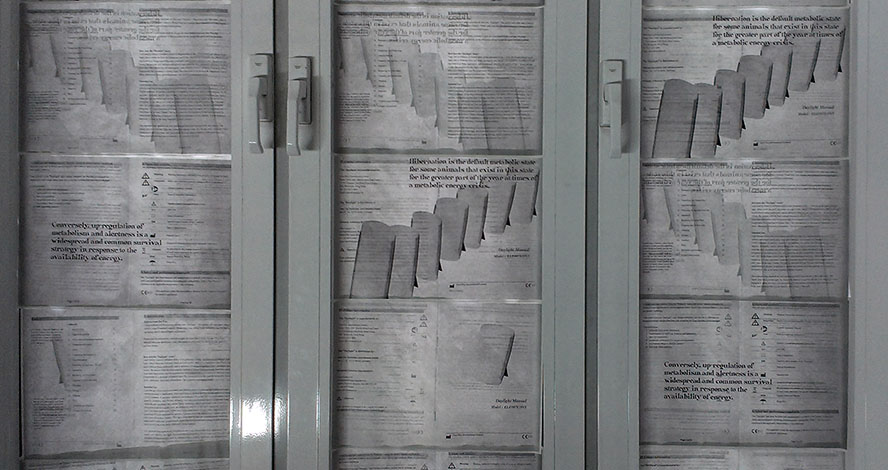 as installed at Mr. Kohout's solo exhibition 5006 years of daylight and silent adaptation at Exile, Berlin
Download files to print on loose A3 sheets in whatever order you like, preferably on both sides of the paper.
---


2013
---
Driving Fast Nowhere email publication to accompany the same-titled exhibition at Polansky Gallery, Prague.
Featuring:
 Ms. Lippard
  Mr. Simmer
   Mr. Haworth
    Ms. Wold Lund
     Mr. Kneale
      Ms. Bielas
       Mr. Burt
        Ms. Hasselknippe
         Ms. Durnak
        and Mr. Mortensen
Hosted and designed by Mr. Kohout.
Big thanks to Mr. Dorpel.
Paulius Petraitis: The Significance of the Photographic Image in a Filmic Context

Most recent debates about the impact of digitalization on photography either advocate a rupture between analog and digital, or deny that there are any differences at all. The present project, however, wants to emphasize the continuity of several cultural aspects without denying the differences between the two ways of image-making. Paulius Petraitis' text follows a trajetory around a less focused relation in film and photography and adds both to the so-called "classic" understanding of photographic images, as well as rejecting any rupture in the current cultural perception of photography.

— Sahar Askari


Edition of 37,5kg.
Read Introduction here.


Designed by Mr. Dautin.
With a contribution by Mr. Princen.
Installed by Mr. Kohout.

Printed copies are sold out, but you can get the
eBook ☛ 2.99€

---


2012
Flavia Spichtig: Serie von zehn Zeichnungen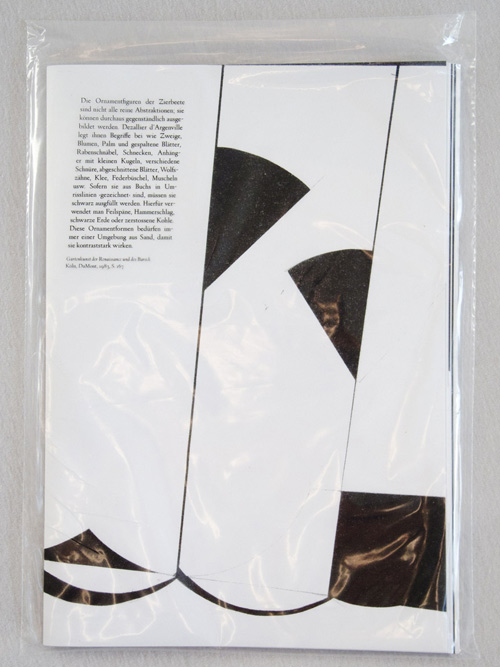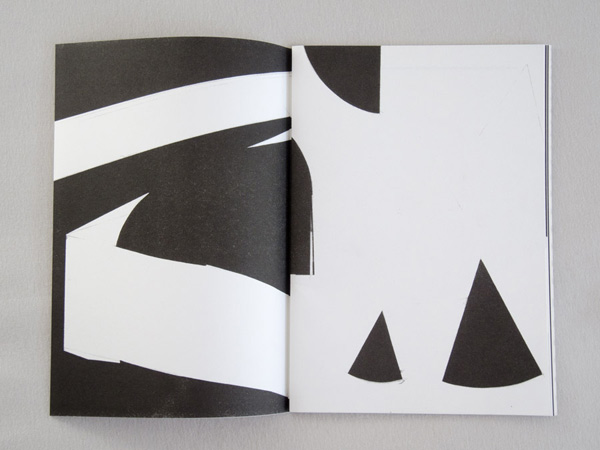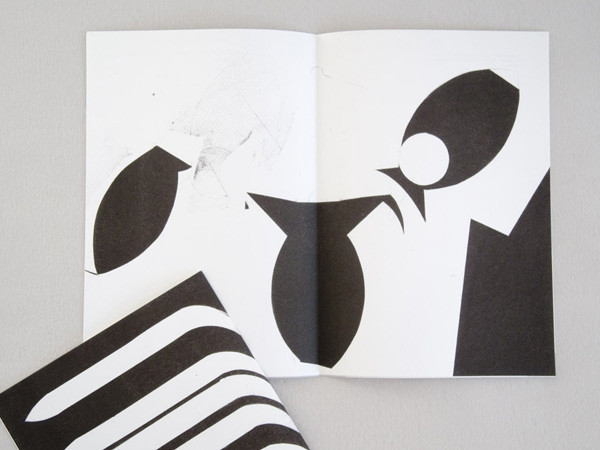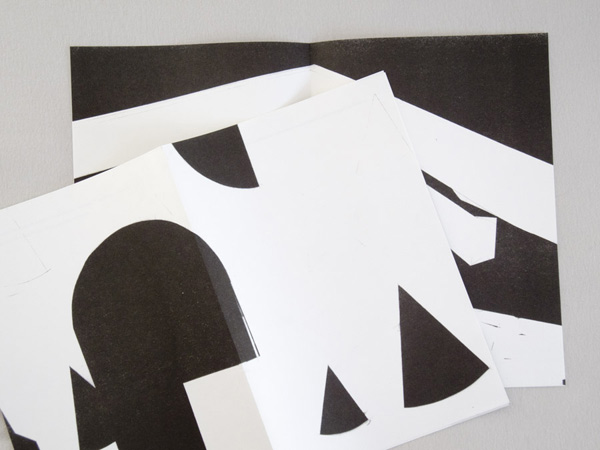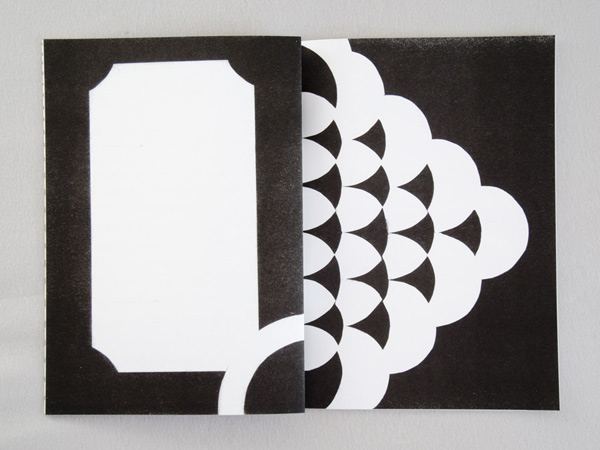 Limited edition of 14.5kg packed in transparent plastic.
Sold out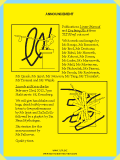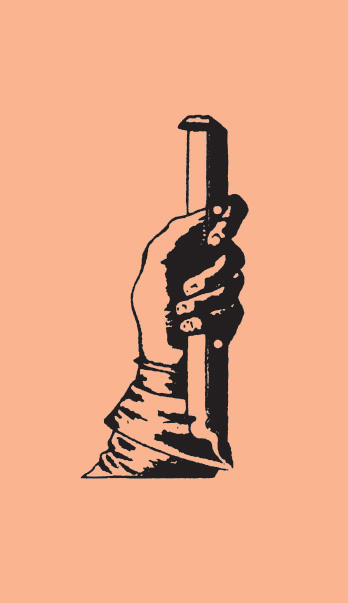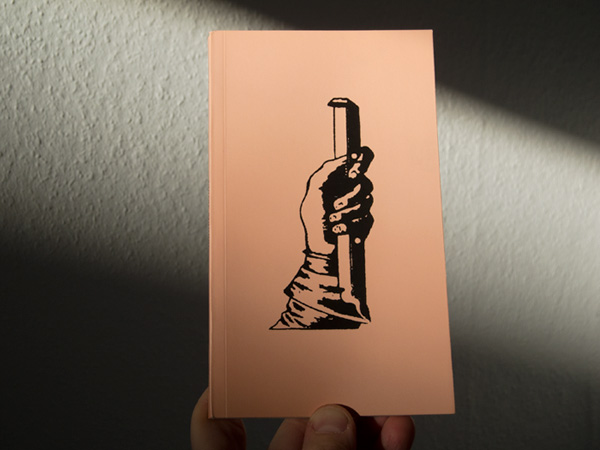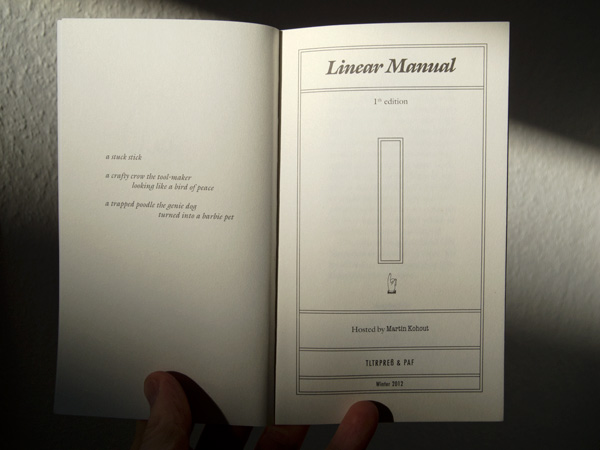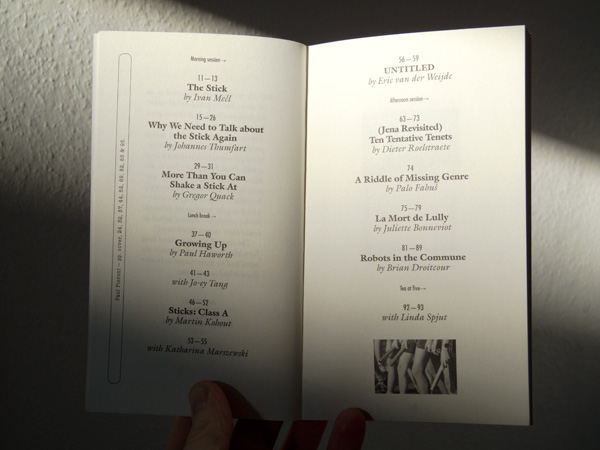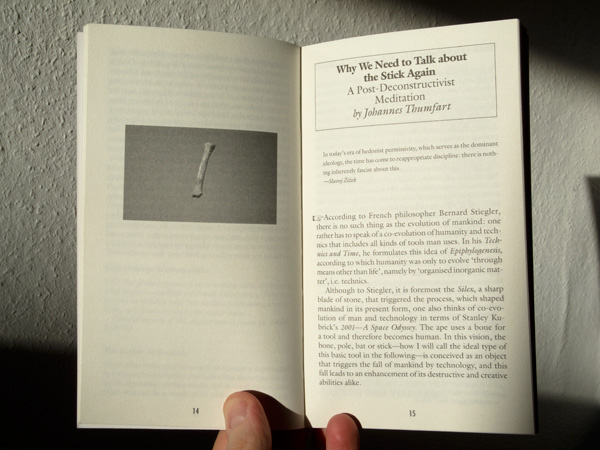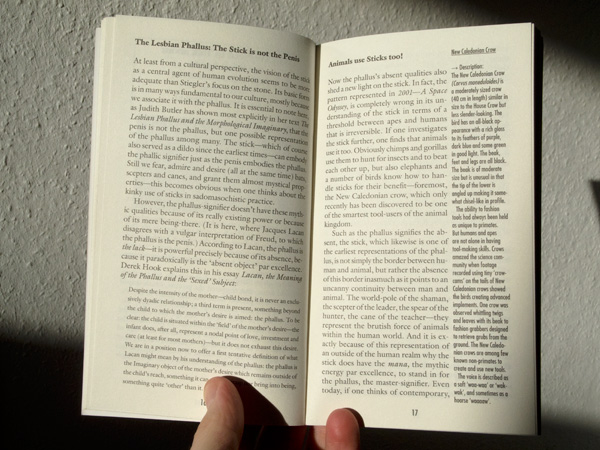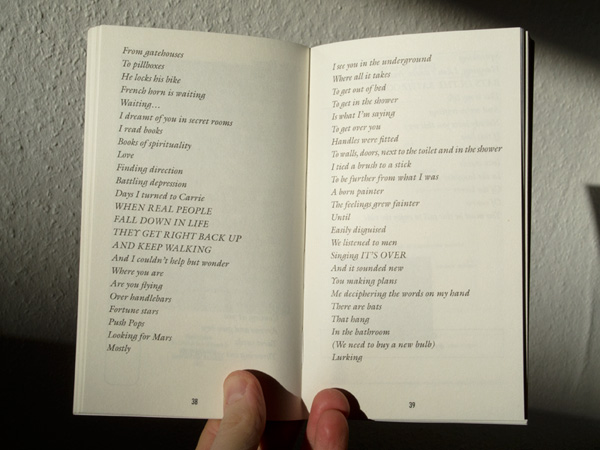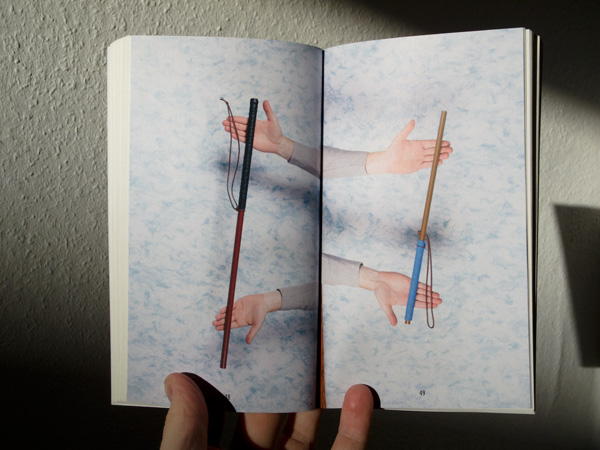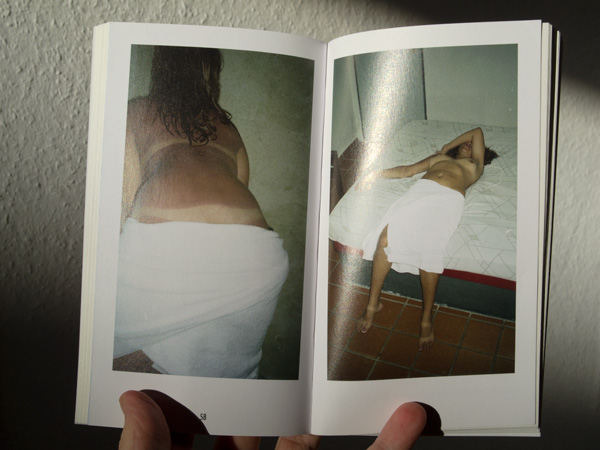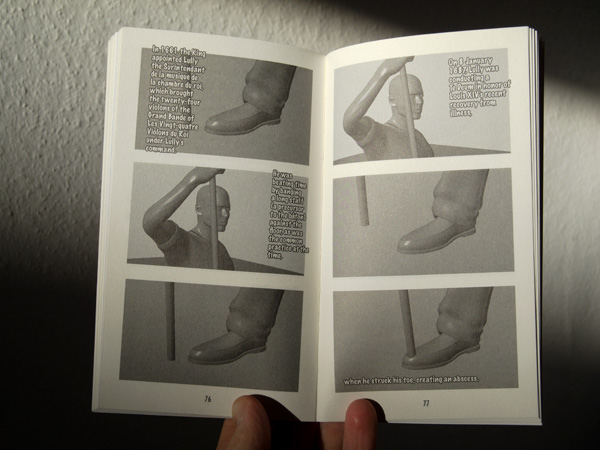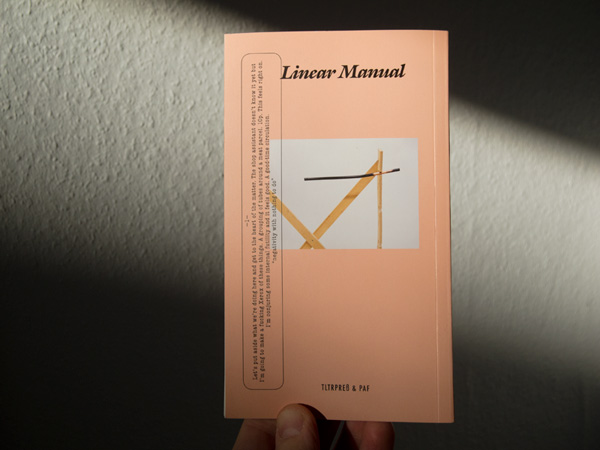 Featuring Ms. Bonneviot, Ms. Cooper, Mr. Droitcour, Mr. Fabuš, Mr. Haworth, Ms. Laube, Ms. Marszewski, Mr. Mečl, Mr. Pieroni, Mr. Quack, Mr. Roelstraete, Ms. Spjut, Mr. Tang, Mr. Thumfart, Mr. Weijde and more.
Designed by Mr. Svensson, hosted by Mr. Kohout.
Co-published with PAF.
Edition of 55.2kg.
Sold out
Read online:
- Why We Need to Talk about the Stick Again: A Post-Deconstructivist Meditation by Mr. Thumfart
- Growing Up by Mr. Haworth
- Robots in the Commune by Brian Droitcour
Doubting, No. 4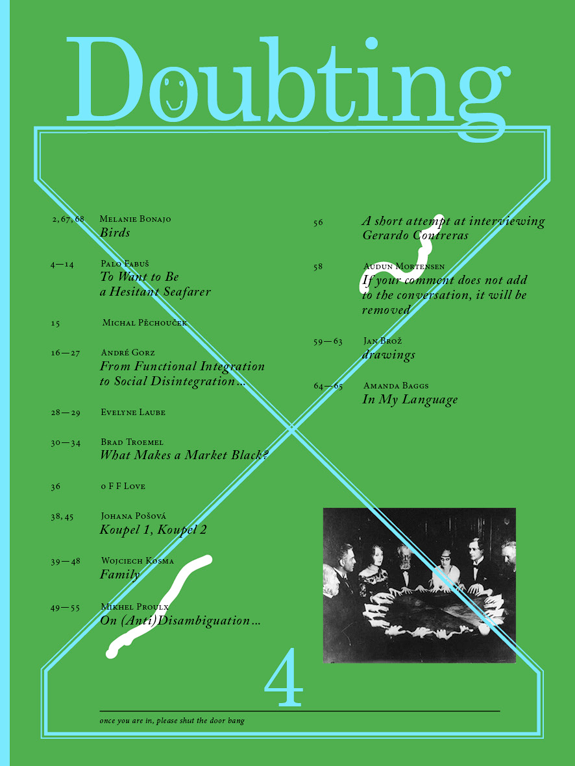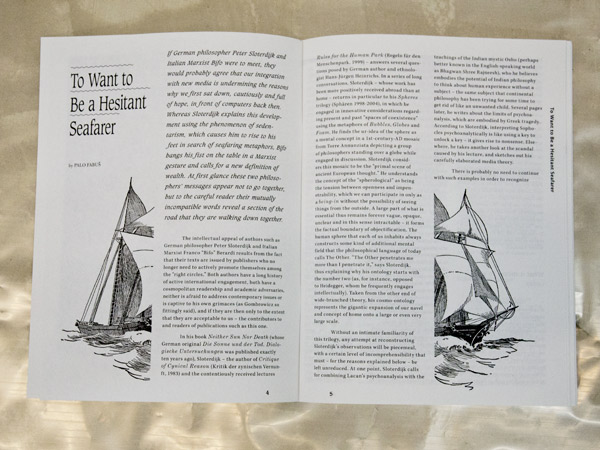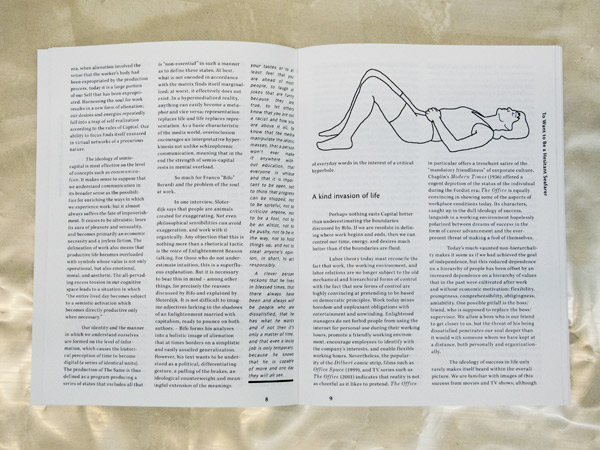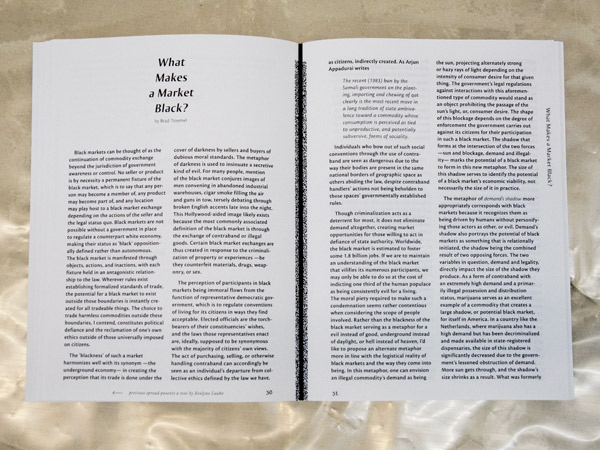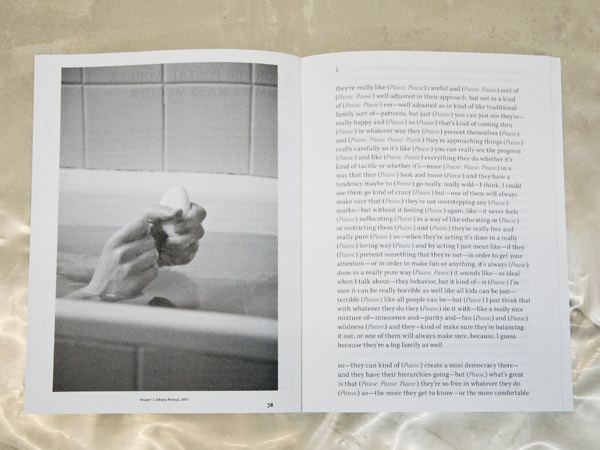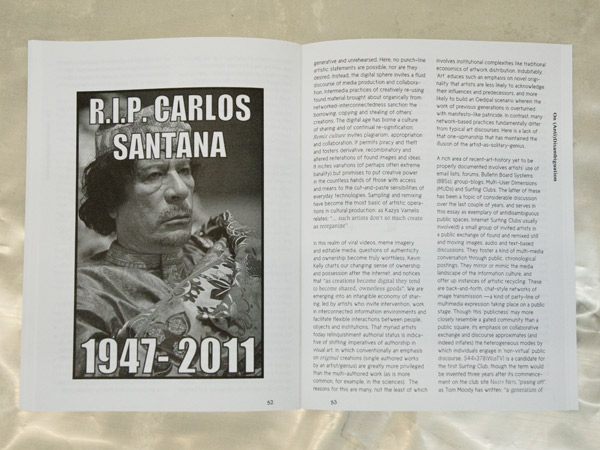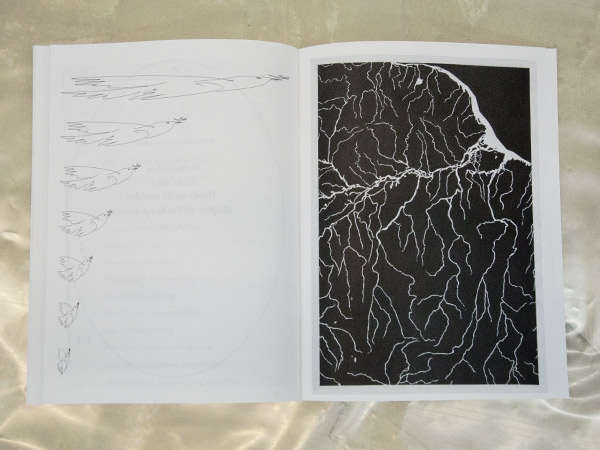 This winter's (and the only ever published) hot issue of Doubting features Ms. Baggs, Ms. Bonajo, Mr. Brož, Mr. Contreras, Mr. Fabuš, Mr. Gorz, Mr. Kosma, Ms. Laube, Mr. Mortensen, Mr. Pallasvuo, Mr. o F F, Mr. Pěchouček, Ms. Pošová, Mr. Proulx and Mr. Troemel. Edited and designed by Mr. Kohout.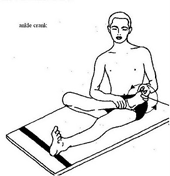 Edition of 33.2kg.
This publication is sold out, but there will be a free pdf released soon.
Read online:
- To Want to Be a Hesitant Seafarer by Mr. Pabuš
- On (Anti)Disambiguation by Mr. Proulx
---


2011
for The (new&extended) Administration of Guilt
second edition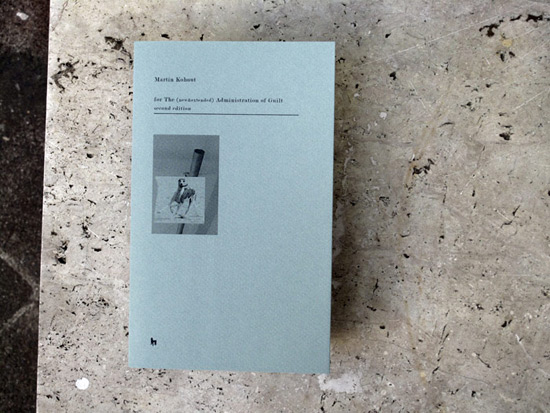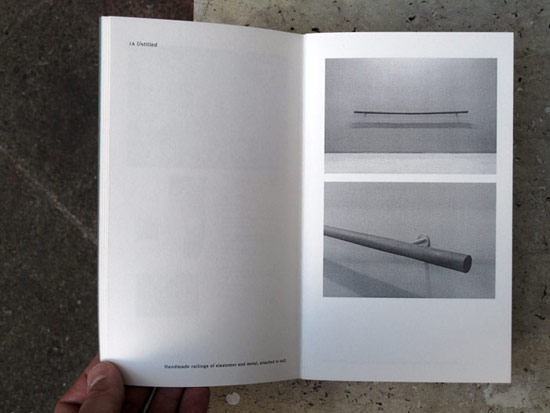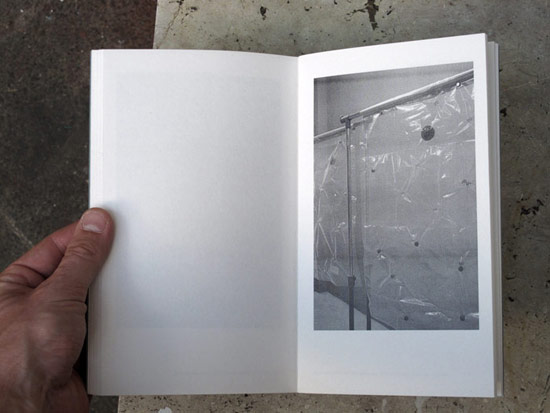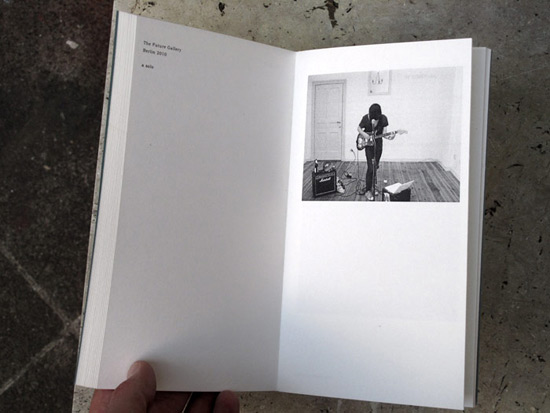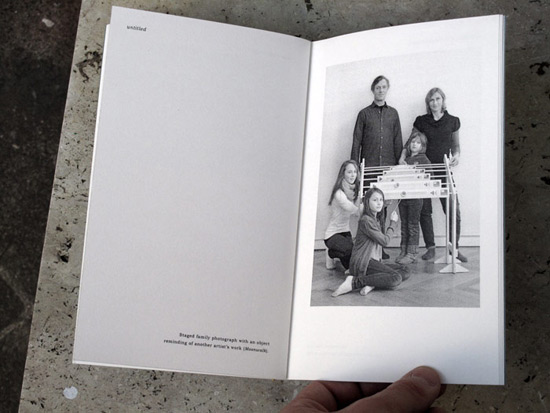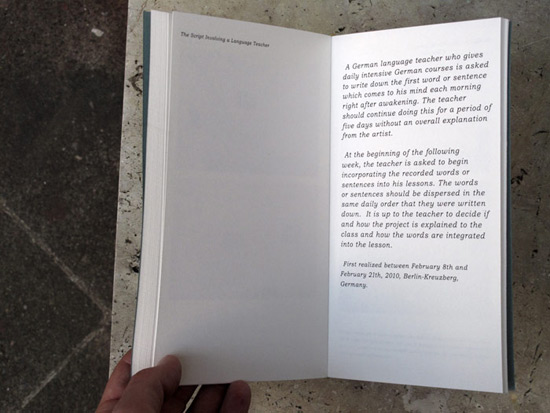 BW album of 4 solo exhibitions and 3 more works by Mr. Kohout.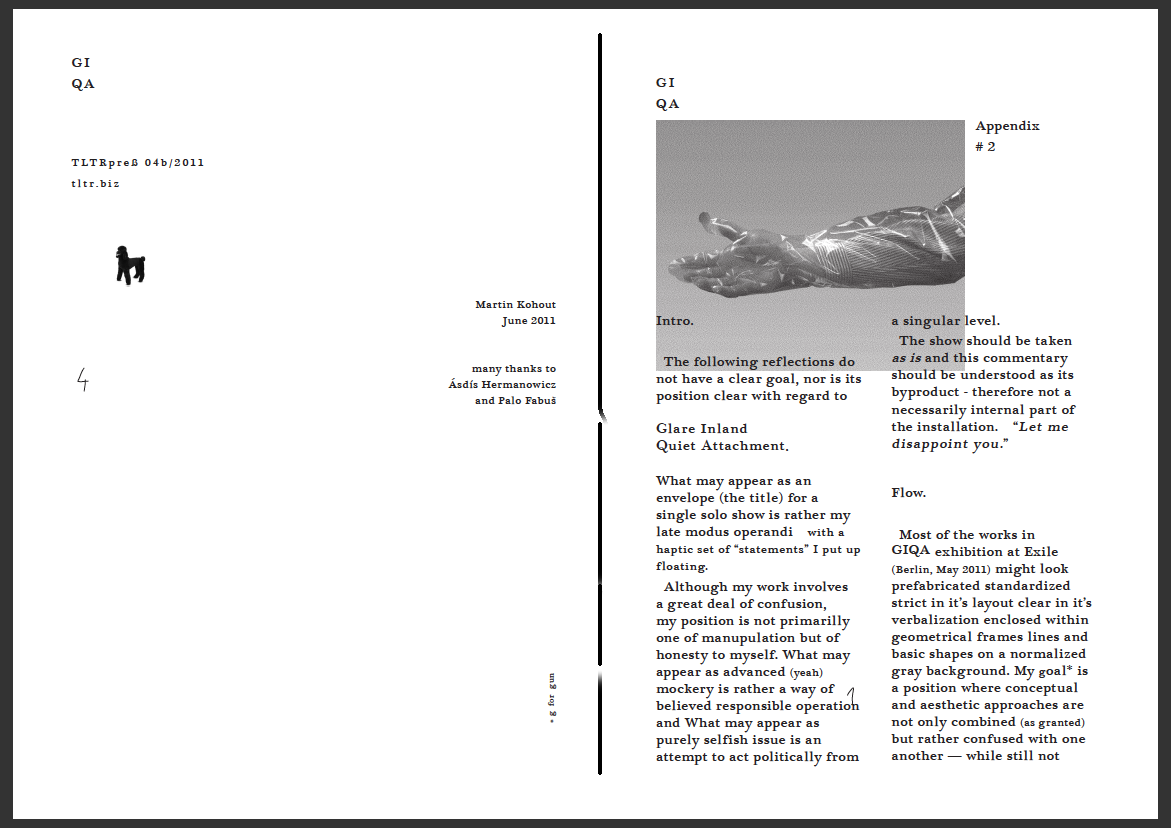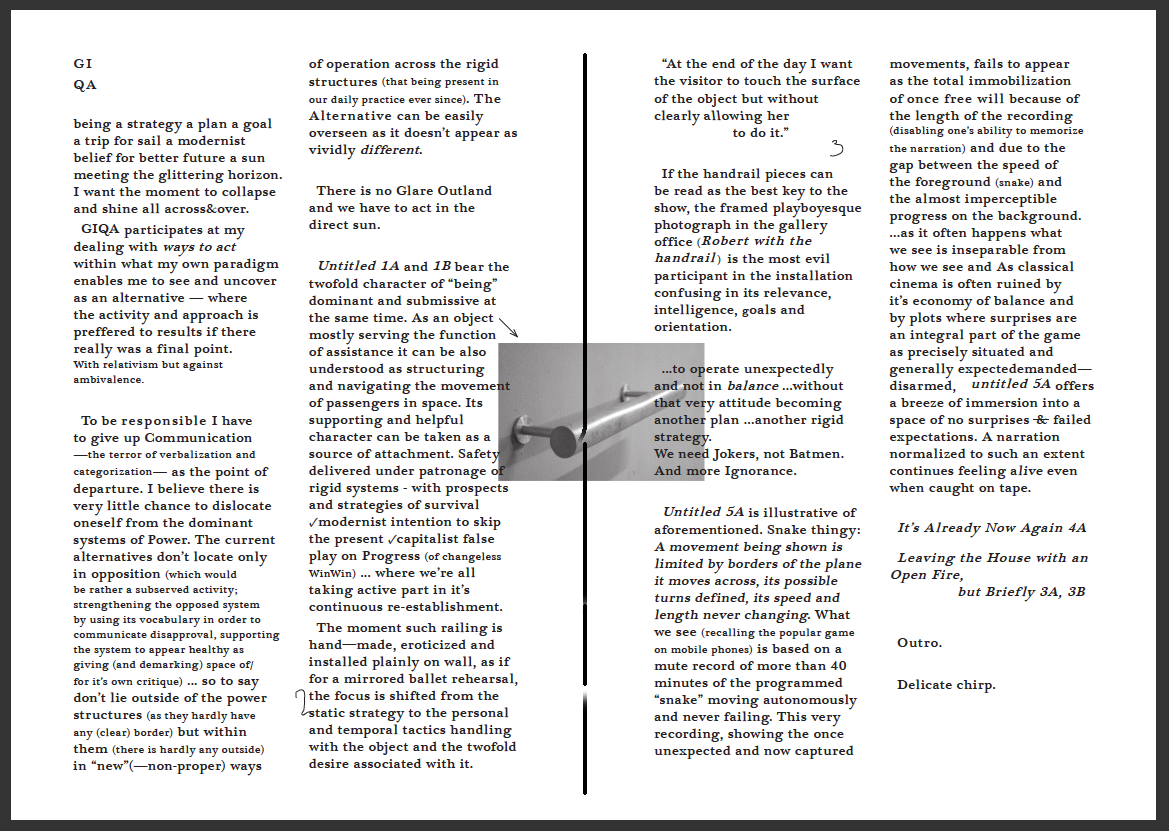 A short essay written after the solo exhibition GIQA at Exile in Berlin, 2011.
edited by Mr. Fabuš, form by Mr. Svensson
to accompany the solo exhibition Glare Inland, Quiet Attachment by Mr. Kohout at Exile, Berlin 2011
2 pages, 2 colors, riso print, free to take, edition of 200
---


2009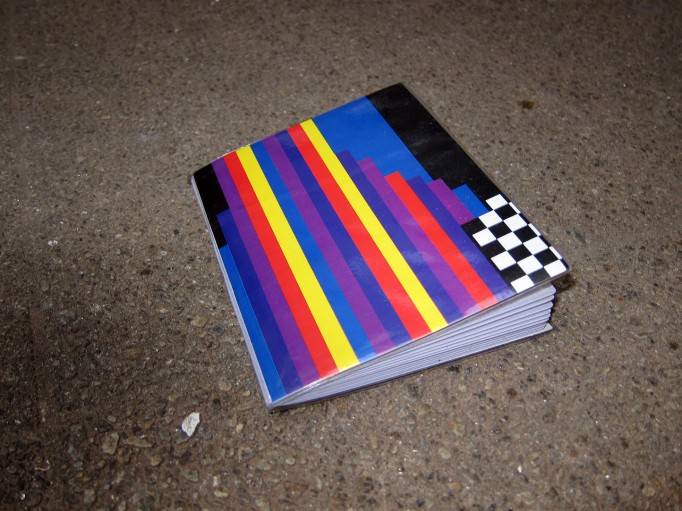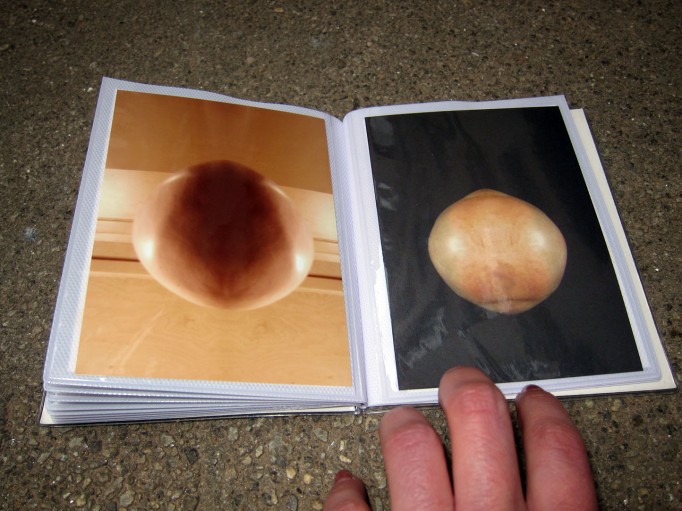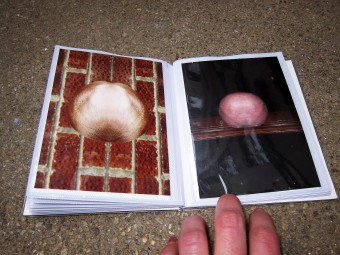 NEWSLETTER
---
* the email field is the only obligatory field to sucessufly fill in the form

---
CONTACT
---
Questions — Orders — Requests — Greetings
☟
mk@tltr.biz
orders@tltr.biz
☟
facebook

---
That's it.


email us
for more info and rates